Fanatic
Post Score
Adjustment: n/a

Rate this post:
Quote from Lester10 at 07:45 AM on February 5, 2010 :


"Possible" does not equate to "plausible."



Nor does plausible necessarily equate to possible.



plau⋅si⋅ble  /ˈplɔzəbəl/ Show Spelled Pronunciation [plaw-zuh-buhl] Show IPA
–adjective 1. having an appearance of truth or reason; seemingly worthy of approval or acceptance; credible; believable: a plausible excuse; a plausible plot.
2. well-spoken and apparently, but often deceptively, worthy of confidence or trust: a plausible commentator.

Yeah, I guess not...






The extreme rarity of transitional forms in the fossil record persists as the trade secret of paleontology. The evolutionary trees that adorn our textbooks have data only at the tips and nodes of their branches; the rest is inference, however reasonable, not the evidence of fossils. Yet Darwin was so wedded to gradualism that he wagered his entire theory on a denial of this literal record:

Darwin's argument still persists as the favored escape of most paleontologists from the embarrassment of a record that seems to show so little of evolution [directly]. In exposing its cultural and methodological roots, I wish in no way to impugn the potential validity of gradualism (for all general views have similar roots). I only wish to point out that it is never "seen" in the rocks.

Paleontologists have paid an exorbitant price for Darwin's argument. We fancy ourselves as the only true students of life's history, yet to preserve our favored account of evolution by natural selection we view our data as so bad that we never see the very process we profess to study.

For several years, Niles Eldredge of the American Museum of Natural History and I have been advocating a resolution to this uncomfortable paradox. We believe that Huxley was right in his warning [1]. The modern theory of evolution does not require gradual change. In fact, the operation of Darwinian processes should yield exactly what we see in the fossil record. [It is gradualism we should reject, not Darwinism.



Well I sure don't see this 'complete quote'  helping you at all. I think you're finding excuses and making your point badly here.



Of course you don't, since you think the snippet you got from Werner told the whole 30 year old story.




The fossils still don't indicate gradualism



And you are thus arguing against a 30 year old point.

I.e., you are 3 decades behind.

I asked you in the 'definitions' thread and, of course, you were unable to answer for some reason, what you meant by "gradualism", and now I ask you why this is such a big deal.

A textbook I will be using for my Evolution class had this to say:

"Doug Erwin and Robert Antsy (1995a,b) reviewed a total of 58 studies conducted to test the theory of punctuated equilibrium. ...Erwin and Antsy's conclusion was that "Paleontological evidence overwhelmingly supports a view that speciation is sometimes gradual and sometimes punctuated, and that no one mode characterizes this very complicated process in the history of life."

Gould was a good guy, but I will take 25 year more recent material over his position any day.
Taken in conjunction with the more complete Gould quote and suddenly we see something - that Gould may have been correct in terms of the evidence available to him at the time (though as I mentioned, Gould did acknowledge that are actually some examples of gradualism in the fossil record) but in larger scale studies we see that there is evidence for both gradual and punctuated speciation.

Arguing as your heroes do that gradualism is the only way is an outmoded argument that, given the entirety of Gould's position, didn't have much weight to begin with.

That is the problem of arguing via quote - at some point, the quote is just no longer relevant.



The theory of evolution sure seems to require gradual change but then if we don't find it, we just say it doesn't require gradual change and make up another story about why it doesn't.



So tell us all why it requires gradual change. Sure, Darwin postulated that premised on what he knew at the time. All I see is some sily requirement by YEC cultists that scientists must know everything from the word go, and if something new is found out later, then the scientists must have been totally 100% wrong on everything. What a dumb position to take.






That, too, was written nearly 30 years ago.



And there's been no improvement in all this time so that doesn't help.



Only if you ignore the evidence that:

1. the juicy 30 year old quotes don't tell the whole story
2. there in fact has been a great deal of 'improvement'


But that is what YEC cultists do - they argue against phantoms.





Yet Gould and the American museum people are hard to contradict when they say there are no transitional fossils.



So now that you have the whole quote and it says nothing contradictory to what I already quoted –will you please reconcile why you guys mention loads of transitionals, hard to imagine that anyone can't see evolution clearly, with this portion of the quote?



Again, you are arguing about using more quotes form DECADES ago - this time a quote that was clearly misrepresented and taken out of context by a creatonist - did younot read the Patterson letter?





The very next sentence and those following it are interesting:



"In the first place, it should always be borne in mind what sort of intermediate forms must, on the theory, have formerly existed. I have found it difficult, when looking at any two species, to avoid picturing to myself forms directly intermediate between them.



You see, this is assuming that there is any validity to the theory, in other words if philosophical naturalism and the Darwinian theory are, in any sense,true.



Well golly gee willackers Mister L - Darwin was writing ABOUT HIS THEORY!!!

Use your head for once.





But how would you know? You're just parrotting quotes you found in Werner's book.



No point in running Werner down needlessly, it doesn't help your case in the slightest to talk rubbish about people if you can't produce the fossils. The quotes never came from Werner but the situation with the fossils still exists.



It is not needless - the guy is a fraud and a charlatan who does not - clearly - understadn even the basic premises of evolution, as just those 2 quotes - from HIM - I presented clearly demonstrate.

That he is using decades old quotes as "arguments" today, apparently ignoring the actual evidence, says much - almost as much as the fact that you think the use of these old YEC quote mines are relevant.





Say - don't YOU think that anintermediate/rtransitional form should be exactly half-way between the ancestor and descendant?  



Exactly halfway? – are you trying to present my statements as moronic –yes, of course you are.


Because they ARE:

"The clear examples of transitions should have legs mixed with fins, tail mixed with fluke, nose changing into blowhole, back legs disappearing? "

Gee - what wizard wrote THAT?




But the intermediate fossils still don't exist so you're just playing with words and pretending to be clever.




Sure they do.


But since you cannot seem to present a viable, reasonable, scientific definition for what you think a transitional really should look like, your opinion is worthless.





Didn't you recently claim that there should be a fossil with half-legs and half-fins or something similarly stupid?



Well Derwood, if you claim that legs change into wings then there should be an awful lot of transitionals between the two.



How many and how do you know?

WHY should we be able to find them all?




Do you imagine that there would be a great leap –one day legs, the next day fins?



Gee, I don't know...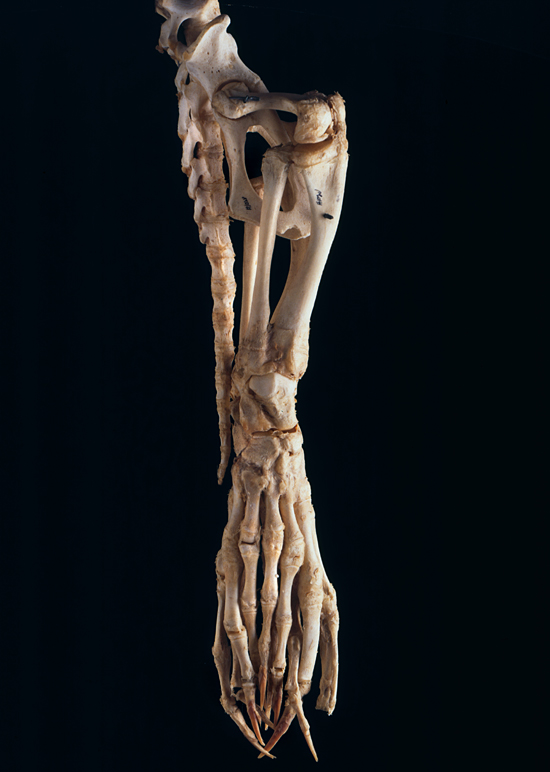 It is amazing - googling that quote produced HUNDREDS of returns to creationist websites.  Funny how you folks just love to use quotes rather than do any actual research.  



Derwood, why wouldn't creationists love to quote those things that were said, and obviously evolutionists would love them to never see the light of day.



Creationists love using quotes because they HAVE NOTHING TO OFFER IN SUPPORT OF THIER OWN POSITION.




You see it's really simple. Occasionally evolutionists say things that are true (though these days they try not to) and obviously creationists will jump on those things because evolutionists said them, not creationists - so you should then wonder why there are no transitionals if your own people admit as much, not look for excuses for why they said what they said.




And then you realize that, in fact, the person who supposedly said there were no transitionals was referring to something specific, not in general, and in fact admitted that there WERE good examples of transitonals and gradualism?
And then you realize that the quotes in question are DECADES old and that since then, many more transitionals have been discovered!

And you realize that even CREATIONISTS with LEGITIMATE degrees in RELEVANT fields who have actually done RESEARCH admit that there is, in fact, evidence of transtionals and what do YOU DO???

Oh, right - YOU labelled these YECs with real doctorates 'ridiculous':




As for transitional fossils, I prefer (with Wise - PDF) the more neutral term intermediate (transitional implies that there was a transition made), although I'm not very consistent in that preference. As you note, I do not deny that intermediates exist (e.g., feathered dinos here and here). In fact, there are lots and lots of really interesting intermediate forms in the fossil record: Devonian tetrapods, Odontochelys, archaeocetes, various other Cenozoic mammal series, mammal-like reptiles. There are living intermediates as well: Latimeria, platypus, velvet worms, various species of Flaveria.

- Todd Wood, PhD., Bryan College (A fundamentalist YEC college)




Let me guess - he's just "ridiculous"? He "doesn't know what he's talking about"?

Gee - I did not attack Patterson or Raup or Gould, I merely put their quotes in a context.

YOU, on the other hand, ATTACK YECs that don't carry the YEC cult's water...





Funny how you folks just love to use quotes rather than do any actual research.  



So everything we say must be original research or it means nothing.



It would be nice if YECs actually had somethign that they could talk about. I didn't mean YOU personally, Iknow you are incapable of doing actual research, I was referring to your handlers.




Have you ever quoted anything that wasn't your own original research?



Not really. That is, I tend not to rely exclusively on quotes. I can actually make my own arguments and provide my own supporting evidence if I need to, sometimes in the form of quotes. But I do not use quotes AS my argument, l;ike you folks like to do.




Does that make it less valid? I hope not otherwise it would appear that you have double standards.



What makes argument via quote invalid is the fact that more often than not, the quotes YECs present are misrepresentations in one form or another, trhat or they are decades out of date. Or both.



I've told you before and I'll repeat it, we have the same data, doesn't matter who does the research but we interpret it according to our worldview and you interpret it according to yours –so it goes like this:



I know you keep saying that, and I keep saying that not all interpretations are vaild.

You keep ignoring that.



Fact: FEW DUBIOUS TRANSITIONALS IN VAST FOSSIL RECORD



NOT A FACT.

An unwarranted extrapolation from carefully selected 30 year old quotes.





But I still maintain that scepticism is the scientist's duty, however much the stance may expose us to ridicule.

Yours Sincerely,
Colin Patterson



So good for him. Others could learn from that. No creationist website proclaims people like Patterson as cupboard creationists but the content of what they say is interesting even though they have to cover their own words carefully afterwards when attacked by their own people for being honest.




How insightful...

Of course, nobody attacked Patterson, rather, he was asked about a creationist's disinformation about somethign he had said.
30 years ago.

30 years ago, I should add, many creationists were still of the opinion that ALL the living aninmals were on the ark...




As for this:


Transitional forms are generally lacking at the species level, but they are abundant between larger groups.



That's not true either so he's clearly backtracking unsuccessfully.



Oh, so Gould is right when you want him to be, but not right when you don't.

Got it.




If they were abundant between larger groups, why didn't he show them in his book -.because he said there weren't any to show. That's why.




You have his book, do you?


For sonme reason, I don't think you do.


-------
Lester:

"I said I have a doctorate and a university background in anatomy, physiology, biochemistry, physics, chemistry, pathology etc. ..."