Lester10


| | Report Post

---


Fanatic
Post Score
Adjustment: n/a


Rate this post:

Fencer 27


There are many reasons why genetic evidence outweighs morphological evidence, one of them being that you can only get genes from common ancestry, but you can acquire morphological similarities separately to another lineage.



So then should we believe that the hippo is the closest ancestor of the whale rather than the hyena or a cat-like mammal because of the DNA? If morphology was never correct, should we discard it and use only DNA evidence?



To your question on why it can't be from a common designer rather than an ancestor. I think that without the fossil record your position would be valid, but with the fossil record there is nothing to support that hypothesis.



That the fossil record contains indisputable transitional forms (which it should if evolution is true) is propoganda; it is not the picture presented by the evidence. If you have a natural history museum near you, you should go and have a look and when they show you a family tree, ask to see the transitional forms, there aren't any. When they draw lines connecting this and that, ask how many transitionals they have between this and that and don't just believe it, ask where you could go to see them. If they show you a transitional then don't let them give you a bat that looks exactly like a bat but apparently has some minor differences, make sure that it is a convincing transitional according to your brain not according to indoctrinational input. You'll be enlightened and light is good. Common designer or even alien will start looking more probable in the light of what you will actually find.
Remember I am not saying that they are deceiving you on purpose, even a Jehovah's witness isn't doing that –they believe it and they want you to believe it too; and if they can't see the evidence for themselves, they still believe it is out there which justifies the deception. It was a possibility back in Darwin's time but in the light of a more than adequate fossil record and so many other evidences for the complexity of the simplest life, it is no longer feasible and should be trashed. If they don't want an intelligent designer in the place of evolution by natural processes, then they must try and find something else rather than carry on kicking a dead cat.



According to you, what evidence would give credence to macro evolution?



A few lines of convincing transitionals, a line between one creature and the other that cannot be attributed to simple variation which we see everyday. They must also be found in the correct order in the fossil record. There should be loads of examples like that but there aren't any -they say there are but look for yourself, there aren't.



So we all agree that mutations happen, can be beneficial, and can evolve populations to different species, and for you provided that they stay with in their own kind.



No, we don't even agree there because I believe that Mendelian genetics accounts for the most part for the variety within the kind; it is programmed into each living organism and natural selection kills off those that are unsuited to the environment –for example short haired undomesticated dogs in the Antarctic. Mutations are never beneficial per se as they destroy information but a destruction of information can be beneficial in certain circumstances –for example where a bacteria is resistant to an antibiotic by virtue of lack of a protein (protein mutated and became non-functional) that converts the antibiotic to a toxin. In that case only those bacteria with the missing protein will survive but that doesn't mean that they are generally hardier than the original kind of bacteria and it does mean that they will probably be selected against in a normal environment which lacks that antibiotic. Whenever you see an example of so-called 'beneficial mutation', try to ascertain what is missing to cause the circumstantial benefit.



So what evidence, beyond philosophy, do you have that would prevent enough mutations through genetic drift to cause two populations to become two distinct kinds after being part of one?



Mutations large enough to cause significant morphological change (not like finch beaks- that's genetic variation) seems to only cause sterility or death. If you can find some examples where that didn't happen, I'd be very interested to see them.Also how do you imagine that a creature without wings would acquire the organized co-ordinated information that would be needed to code for wings via random unrelated changes in the genome? There's no way of storing up beneficial related mutations for some future big event or organ if there's no purpose.



but the TOE doesn't support the idea that we would see direct observation of changes of that magnitude with in the time that we understood evolution.



And when we do we have a visible mutant, it doesn't survive. So effectively all the evidence is and always will be hidden from us. In that case, is it scientifically justifiable to hypothesize its occurrence lacking a respectable fossil record demonstrating clearly that it did happen?



Because we have no method of understanding the supernatural, but we do have one for the natural



But if you consider the complexity of the simplest cell, natural processes can't account for it –even via mutation and natural selection because you'd have to have reproducing life before mutation and natural selection could start working on it. That's a tall order.
The thing is not to say you have to explain how the supernatural made life but that it is a potential cause of life. It's far better to allow for one or the other, creation or evolution than to just say, it has to be natural because we can't explain and investigate the supernatural. That's like saying John did it, and it couldn't be Mary because it had to be John (prejudice) and it couldn't be Mary (prejudice) so we concoct a long story of how John did it when meantime Mary actually did it but we refused to accept that as a possibility. Saying that the origin of life and species could have been a supernatural event is just allowing for the obvious. If it wasn't natural, it was supernatural. That doesn't stop science, we still get to investigate everything that exists and see how it works; we just no longer can claim to be in control of all knowledge. Some people don't like that.
Saying that it was a supernatural event doesn't mean we know who did it either. If we decide it was supernatural there would still be various theological possibilities as to who that supernatural creator could be.



What else is needed? (I assume chemistry can be synonymous with natural laws in this case)



Yes chemistry would be synonymous with natural laws in this case. What else is needed is the information.Dean Kenyon wrote a university textbook called "Chemical Predestination" about the origin of life and chemistry. It was used by students for 20 years but ultimately Dean Kenyon didn't agree with himself anymore because he was challenged to explain the order of the DNA, the information part of it. He couldn't explain the origin of it as pure chemistry and neither could he in good conscience carry on backing his own previous story. His university tried to fire him when he came out in support of intelligent design but couldn't legally do it; he was then demoted to lab assistant, all for backing off from evolution as being a natural cause for life and the genetic code. Thank goodness some people still have a conscience, it would have been far better in all ways for him to just carry on with what he had originally asserted. I'm sure evolutionists will have all sorts of garbage stories about him that would be easily passed around and believed but I also have plenty other examples of people whose lives were negatively impacted by rocking the boat of evolution by natural causes.
If you think about it logically the letters of DNA have to be placed in the correct order to code for the correct amino-acids that have to line up to make the correct protein that can be folded correctly to perform a specific function in a specific place interacting with other specific shaped proteins that have to work together. The DNA has to have mechanisms to switch these proteins on and off as they are needed, where they are needed and in what quantities they are needed. This sounds far more like a programmed computer than it does a product of chance and time that just happened to get it right. The entire human body has to interact with its various functions and parts to act as an integrated whole. We can't live without our liver, our kidneys and various other specialized organs. They have to be there and they have to operate and for that we need specific proteins performing specific functions so that the whole is integrated and functional. Try and get a programme like photoshop via random mistakes to the 'paint' programme. Choose the best mistakes in 'paint' through copying and recopying and think whether you're likely to build up something better. Give it millions of years and all you'll have is more mess.
Information comes from intelligence –it is not material, it is weightless and can be transferred from one medium to the next much like transferring photos from computer to memory stick to CD to paper. The information is not a material part of the system.


Of course God could have created life via supernatural means, but that explains nothing. If we take the opposite assumption and say if life happened naturally how could it have happened? Then making a hypothesis and valid experiment and revising the hypothesis and experiment until the goal is achieved, that would be science.


Unless it didn't happen naturally, then we'd be beating a dead cat. The evidence for it is not great. Why explain something via natural means if it didn't happen like that? It's not a science stopper to say there must be a supernatural cause but it is a science stopper following a path of fantasy at great expense. You've just got to have at least one alternative or else you don't need any evidence, you just need to keep inventing plausible stories.



Explain one thing that the TOE can't explain through the use of a designer.



Everything in the fossil record arrives suddenly and fully formed. If embryos and other soft bodied organisms are capable of fossilization then so are the precursors to fish, bats, dinosaurs, invertebrates –all of which have no ancestors. That's what the real fossil record shows. If creation was allowed as an alternative theory for the origin of life, it would win hands down. Instead the evidence for creation is being used as evidence for evolution instead of falsifying evolution which it actually does.



There is a clear path from the big bang to stars, galaxies ect.



What went 'bang'? Where did the matter come from?



I feel that the truth neither lies in naturalism or creationism solely, but rather a combination.



Perhaps that is your preference. Then lets allow for both possibilities and see where it takes us. The naturalists have science in a vice grip and they don't want anything but evolution to be taught. We need to allow criticisms of Darwinism. What are they so scared of? It's not some vague scare tactic of religious theocracies that bothers them, it's actually the fact that given alternatives, evolution may well flunk the test and that is unacceptable.
Science never absolutely proves any theory, it only disproves some theories. Criticizing a theory is not negativism since falsification of wrong concepts is an essential part of gaining knowledge through scientific research. Thus it is most appropriate to discuss the failures along with the successes.The failures need to see the light of day rather than being treated as non-confirming evidence and being shoved into a dark corner.



Why atheists use science as a way to debunk religion, my guess is that it is how they became atheists and they feel that it is the best way to show people that they are right.



I fully agree. I don't think they necessarily have as their prime directive to convince other people though, I think they have a need to convince themselves via convincing other people, and this acts as positive feedback in their stand against the God that they deny exists.



I'm really happy to hear that you feel that way –I'd rather believe what's true then what's convenient.



A population of amphibians slowly evolved into reptiles over X amount of generations due to mutations natural selection.

And where is the evidence that suggests that?



Lack of a convincing demonstration that suggests that it did happen –in the fossils or in any other place.



LOL, C14 is radiometric dating, one out of many.



Sorry that was badly put. Yes C14 is radiometric dating but I say we can use it to determine a maximum age not an actual age, it hasn't proven to be very accurate for known dates . Radiometric dating is just too out to be believed and the only dates they accept from the rest of the radiometric dating line up are the ones that line up with the geological column, the bible of the evolutionist.



My choice is philosophical and not scientific. It is a choice, as you have said.



Good to hear you say that. At least you understand that. Too many evolutionists do not even see that they have made a philosophical choice. Both theories involve once off historical events so neither can be proven to be true. What we need is to falsify subtheories within the main theories but evolution is so elastic it can explain anything - so it is not falsifiable thus it is not science.



What is the difference between speciation and macro evolution?



Speciation is change within the kind –ie.the same kind is produced eg. finch produces finch. Technically kind may be genus or species, I'm not sure how we can compare it to current divisions. I'm sure other creationists would have a bettr thought out answer to that question. What I do know is that for all practical purposes fruit flies only ever produced more fruit flies deformed or otherwise through thousands of generations. Nothing new was ever produced, no new organs, nothing that you wouldn't recognize to be a fruit fly –that is what I mean by 'kind.' No macro-evolution occurred despite plenty of time-consuming mutating effort.








-------
Richard Lewontin: "We take the side of science in spite of the patent absurdity of some of its constructs in spite of the tolerance of the scientific community for unsubstantiated just-so stories, because we have a prior commitment, a commitment to materialism... no matter how counter-intuitive, no matter how mystifying to the uninitiated. Moreover, that materialism is an absolute, for we cannot allow a Divine Foot in the door"

---

Posts: 1554 | Posted: 06:05 AM on July 21, 2009 | IP
orion


| | Report Post

---



Fanatic
Post Score
Adjustment: n/a


Rate this post:

Lester -


And when we do we have a visible mutant, it doesn't survive. So effectively all the evidence is and always will be hidden from us. In that case, is it scientifically justifiable to hypothesize its occurrence lacking a respectable fossil record demonstrating clearly that it did happen?




How about if we could go back in time and see that present day population actually does differ from its acestor? For instance, perhaps a population has acquired an adaptation to a toxic pollutant. That would require the population adapting to a change in the environment via natural selection, just as TOE predicts. Natural selection would be acting upon mutations within the population that would allow the population to adapt to a change in environmental conditions.

Such a situation has actually been observed. Here is an example:

Ecologist Brings Century-old eggs to life to study Evolution

In 1999 Hairston and colleagues published a paper in Nature that described how 40-year-old resurrected eggs could answer whether tiny crustaceans called Daphnia in central Europe's Lake Constance had evolved to survive rising levels of toxic cyanobacteria, known as blue-green algae. In the 1970s, phosphorus levels from pollution rose in the lake, increasing the numbers of cyanobacteria. The researchers hatched eggs from the 1960s and found they could not survive the toxic lake conditions, but Daphnia from the 1970s had adapted and survived.




---

Posts: 1460 | Posted: 3:08 PM on July 21, 2009 | IP
Lester10


| | Report Post

---


Fanatic
Post Score
Adjustment: n/a


Rate this post:

Orion

I don't have any problem with adaptation to changing environment. No creationist has any problem with natural selection and adaptation but crustaceans remain crustaceans which is microevolution or adaptation not the sort of macro-evolution that we say cannot and never did happen.


-------
Richard Lewontin: "We take the side of science in spite of the patent absurdity of some of its constructs in spite of the tolerance of the scientific community for unsubstantiated just-so stories, because we have a prior commitment, a commitment to materialism... no matter how counter-intuitive, no matter how mystifying to the uninitiated. Moreover, that materialism is an absolute, for we cannot allow a Divine Foot in the door"

---

Posts: 1554 | Posted: 02:30 AM on July 22, 2009 | IP
Fencer27


| | Report Post

---



Junkie
Post Score
Adjustment: n/a


Rate this post:

Quote from Lester10 at 06:05 AM on July 21, 2009 :
So then should we believe that the hippo is the closest ancestor of the whale rather than the hyena or a cat-like mammal because of the DNA? If morphology was never correct, should we discard it and use only DNA evidence?



It is not an either or in science. There are other things to consider, like geographical location and time of existence. Like in whale evolution we see a clear pattern in the right time line showing hyena-like mammals slowly changing over time to whales.



That the fossil record contains indisputable transitional forms (which it should if evolution is true) is propoganda; it is not the picture presented by the evidence.



Archeopteryx is a prime example of a transitional fossil. There is also Tiktaalik and homo erectus, to name some of the more famous ones.



Remember I am not saying that they are deceiving you on purpose, even a Jehovah's witness isn't doing that –they believe it and they want you to believe it too; and if they can't see the evidence for themselves, they still believe it is out there which justifies the deception.



I could say the same thing about you, and the creationist movement in general.



It was a possibility back in Darwin's time but in the light of a more than adequate fossil record and so many other evidences for the complexity of the simplest life, it is no longer feasible and should be trashed.



Evolution is about the diversity of life, not how life started. Evolution must work with a genetic system already in place. Abiogenesis is about how that genetic system got into place and how the first life started, it is a new, and very hard field.



if they don't want an intelligent designer in the place of evolution by natural processes, then they must try and find something else rather than carry on kicking a dead cat.



Transitionals are clearly seen.



According to you, what evidence would give credence to macro evolution?





A few lines of convincing transitionals, a line between one creature and the other that cannot be attributed to simple variation which we see everyday. They must also be found in the correct order in the fossil record. There should be loads of examples like that but there aren't any -they say there are but look for yourself, there aren't.



I've listed some of the standard transitionals earlier in my post that satisfies every definition of a transitional.



So we all agree that mutations happen, can be beneficial, and can evolve populations to different species, and for you provided that they stay with in their own kind.





No, we don't even agree there because I believe that Mendelian genetics accounts for the most part for the variety within the kind; it is programmed into each living organism and natural selection kills off those that are unsuited to the environment



How does that go against what I said?



Mutations are never beneficial per se as they destroy information but a destruction of information can be beneficial in certain circumstances –for example where a bacteria is resistant to an antibiotic by virtue of lack of a protein (protein mutated and became non-functional) that converts the antibiotic to a toxin. In that case only those bacteria with the missing protein will survive but that doesn't mean that they are generally hardier than the original kind of bacteria and it does mean that they will probably be selected against in a normal environment which lacks that antibiotic.



Nonetheless, whether a mutation is beneficial or not is determined by the environment. In this case it is beneficial, the fact that it may be harmful in another environment is irrelevant as it is not the environment in which the population exists.



Whenever you see an example of so-called 'beneficial mutation', try to ascertain what is missing to cause the circumstantial benefit.



What is lactose tolerance missing?



So what evidence, beyond philosophy, do you have that would prevent enough mutations through genetic drift to cause two populations to become two distinct kinds after being part of one?





Mutations large enough to cause significant morphological change (not like finch beaks- that's genetic variation) seems to only cause sterility or death.



Just as evolution predicts.



If you can find some examples where that didn't happen, I'd be very interested to see them.



I doubt they exist as well, the modern TOE would be in big trouble if this were the case.



Also how do you imagine that a creature without wings would acquire the organized co-ordinated information that would be needed to code for wings via random unrelated changes in the genome?



Well, the development of wings started out as feathers to keep warm. Eventually they would get enough feathers that it would help them not only to keep warm but to help glide as well, and from there flight.



There's no way of storing up beneficial related mutations for some future big event or organ if there's no purpose.



But that's not what evolution says or even predicts. Every step must be either beneficial or neutral to the fitness of the organism/population.



And when we do we have a visible mutant, it doesn't survive.



We are all mutants! The average human zygote has 128 mutations, and will gain around 30 more during life.



So effectively all the evidence is and always will be hidden from us. In that case, is it scientifically justifiable to hypothesize its occurrence lacking a respectable fossil record demonstrating clearly that it did happen?



In science you need evidence, otherwise it will remain a hypothesis or model. You can hypothesize about anything really, and as long as you adjust your model to fit the evidence you've done nothing wrong in science.



Because we have no method of understanding the supernatural, but we do have one for the natural





But if you consider the complexity of the simplest cell, natural processes can't account for it –even via mutation and natural selection because you'd have to have reproducing life before mutation and natural selection could start working on it.



The simplest cell today is far more complex than the first cell. You are right in that life must exist for evolution to happen, but wrong in that mutations and natural selection did happen in pre-cells. But remember, evolution is the explanation for the diversity of life once life was already under way, not how life originated, that is left to the study of abiogenesis.



The thing is not to say you have to explain how the supernatural made life but that it is a potential cause of life. It's far better to allow for one or the other, creation or evolution than to just say, it has to be natural because we can't explain and investigate the supernatural.



Science doesn't claim to know any absolute truth, and saying life, or even evolution, is 100% natural is not scientific, but would be a personal choice. But the only avenue of study is natural, not to say that it only has to be natural, but we can only study the natural and bringing in the supernatural to explain something isn't productive. Saying that the supernatural created life doesn't explain anything in regards to science. There is no reason to pursue that line of thinking unless it is theological or philosophical and not science.



That's like saying John did it, and it couldn't be Mary because it had to be John (prejudice) and it couldn't be Mary (prejudice) so we concoct a long story of how John did it when meantime Mary actually did it but we refused to accept that as a possibility.



Why couldn't it be Mary did it through John? John did it, but was carrying out orders from Mary. Yet since we can't see, hear, smell, touch, or taste Mary, we can only say that John did it, and any addition of Mary would be grounded in philosophy.



Saying that the origin of life and species could have been a supernatural event is just allowing for the obvious.



There is no way to objectively test that statement, so any one who comments on it is only speaking their opinion.



If it wasn't natural, it was supernatural. That doesn't stop science, we still get to investigate everything that exists and see how it works; we just no longer can claim to be in control of all knowledge. Some people don't like that.



Science never claims to know any absolute truth, scientists are fine in saying we don't know with 100% accuracy that evolution is true. Ironically creationists are the only ones who claim to have absolute truth in how the universe was made. And you're right, some people just can't entertain the fact that they might be wrong.



Saying that it was a supernatural event doesn't mean we know who did it either. If we decide it was supernatural there would still be various theological possibilities as to who that supernatural creator could be.



Well of course, but it has nothing to do with science. And even if science did say that it was supernatural, it doesn't prove that it was supernatural. The next day might come up with support for a naturalistic cause and denounce the supernatural.



What else is needed? (I assume chemistry can be synonymous with natural laws in this case)





Yes chemistry would be synonymous with natural laws in this case. What else is needed is the information.



What information? There is information in life; like the codon AUG in RNA has information to start protein synthesis in translation, but it is all chemical. You don't need anything other than natural laws to explain how life works.



Dean Kenyon wrote a university textbook called "Chemical Predestination" about the origin of life and chemistry. It was used by students for 20 years but ultimately Dean Kenyon didn't agree with himself anymore because he was challenged to explain the order of the DNA, the information part of it. He couldn't explain the origin of it as pure chemistry and neither could he in good conscience carry on backing his own previous story.



I have never heard of him or his book, probably because I'm too young to know anything about him. Regardless, I am talking about things that are already alive, as this is not a thread on abiogenesis. This may be a misunderstanding, but what exactly can natural laws not explain about life that is already here?

What evidence, if any, did Kenyon use to say that life isn't natural? Or is this just his opinion and not substantiated by the evidence?



If you think about it logically the letters of DNA have to be placed in the correct order to code for the correct amino-acids that have to line up to make the correct protein that can be folded correctly to perform a specific function in a specific place interacting with other specific shaped proteins that have to work together. The DNA has to  have mechanisms to switch these proteins on and off as they are needed, where they are needed and in what quantities they are needed.



Indeed it is very complex, but all of it can be explained by chemistry. Evolution doesn't say that these things just spontaneously appeared out of thin air, the only people who are proposing this are creationists. Again I am skeptical of my interpretation as you seem to have no distinction between evolution and abiogenesis, two different fields of study. If you want to talk about abiogenesis please start a new thread.



This sounds far more like a programmed computer than it does a product of chance and time that just happened to get it right.



Genetic algorithms are computer programs that essentially use the properties of evolution to solve complex problems, and when tested against human designs for the same problem, they leave the human designs in the dust. The interesting thing is that genetic algorithms make random programs through random chance, and through a system of natural selection and random mutations. The programs they make are more complex than anything any human could make with literally irreducibly complex systems, all through an evolutionary process for computer programs.



The entire human body has to interact with its various functions and parts to act as an integrated whole. We can't live without our liver, our kidneys and various other specialized organs. They have to be there and they have to operate and for that we need specific proteins performing specific functions so that the whole is integrated and functional.



I ask again, what specifically can chemistry not account for? Genetic algorithms have made irreducibly complex systems through random chance with no intelligence, just basic principles and laws that mimic those observed in nature and evolution.



Try and get a programme like photoshop via random mistakes to the 'paint' programme. Choose the best mistakes in 'paint' through copying and recopying and think whether you're likely to build up something better. Give it millions of years and all you'll have is more mess.



With genetic algorithms after a few thousand generations you get things that are better than those designed by humans. Remember, evolution doesn't support a perfect genome in the beginning, but a gradual increase in complexity.        


Information comes from intelligence –it is not material, it is weightless and can be transferred from one medium to the next much like transferring photos from computer to memory stick to CD to paper.



If information has no mass, no matter, than we should be able to fit an infinite amount on CD's, USB drives ect. However information is expressed, and does have matter, which is why there is only a finite amount of information we can put on a CD. Any notion of information as not material is metaphysical.

Information doesn't come from intelligence, we may be able to perceive that information because of our intelligence, but the information would be there with or without our intelligence, or any other intelligence. Are you saying that polypeptides have intelligence?



The information is not a material part of the system.



Perhaps you could expand on this?



Unless it didn't happen naturally, then we'd be beating a dead cat.



Lets say that it did happen via supernatural means. What then, what does it explain, how does it better man-kind?



Why explain something via natural means if it didn't happen like that?



Because we don't know how life started, and the only thing we can objectively see, test, observe is the natural. No one is saying that we know how life started except creationists. But through science we can posit scenarios that are plausible and objectively completely natural.



It's not a science stopper to say there must be a supernatural cause



Yes it is! Science doesn't deal with the supernatural, saying that it is supernatural automatically excludes science from the equation, and prevents scientific inquiry.



You've just got to have at least one alternative or else you don't need any evidence, you just need to keep inventing plausible stories.



But science doesn't work that way, it follows the evidence, if only one explanation is needed, then why create an alternative? As it has already been told to you, there was another alternative to Darwinian evolution, Lamarckian evolution, but in the end it was rejected and replaced with Mendelian genetics and Darwin's theory of natural selection.



Everything in the fossil record arrives suddenly and fully formed.



By suddenly you mean millions of years, and buy fully formed evolution would be in trouble if it weren't true as evolution requires all intermediate steps to be viable.



If embryos and other soft bodied organisms are capable of fossilization then so are the precursors to fish, bats, dinosaurs, invertebrates –all of which have no ancestors.



While I am not versed in specific evolutionary pathways, but my guess is that we do have fossilized remains of their ancestors. And even if we don't, just because we haven't found the fossil yet doesn't mean it didn't exist, just that we haven't found it yet.



That's what the real fossil record shows. If creation was allowed as an alternative theory for the origin of life, it would win hands down. Instead the evidence for creation is being used as evidence for evolution instead of falsifying evolution which it actually does.



No one has ever made a theory of creation, I even started a thread on it where either you or timbrix said that there is no theory of creation because it is not scientific.

So what evidence supports creation instead of evolution? You can post this response in the thread I made for creationists to show evidential support for creation.



There is a clear path from the big bang to stars, galaxies ect.



What went 'bang'? Where did the matter come from?



Nothing went 'bang'. The term was originally used by the big bang skeptics in the science community and it caught on. It should really be called the start of expansion, or something to that affect. No one knows where the energy came from, there are multiple hypotheses, but no one really knows. Many Christians and those of other religions say that it was God. Just a little fyi; several people don't accept the big bang because of how closely it mirrors genesis.



Perhaps that is your preference. Then lets allow for both possibilities and see where it takes us. The naturalists have science in a vice grip and they don't want anything but evolution to be taught. We need to allow criticisms of Darwinism. What are they so scared of? It's not some vague scare tactic of religious theocracies that bothers them, it's actually the fact that given alternatives, evolution may well flunk the test and that is unacceptable.



They don't want creationism in science classes being taught on par with evolution for many reasons. First it isn't science, there is no theory of creation, there is no active research in this field done by real scientists, and the evidence just doesn't support it. Secondly it is illegal according to the first amendment in the U.S. constitution; freedom of religion, the U.S. government cannot legally support any religion over another. And earlier in U.S. history creationism was banned because of it, and recently ID was banned for the same reason in Dover.



Science never absolutely proves any theory, it only disproves some theories. Criticizing a theory is not negativism since falsification of wrong concepts is an essential part of gaining knowledge through scientific research.



Thirdly, a high school student doesn't have the knowledge or understanding to criticize any scientific theory. Such things should be left to the peer review section in the scientific literature where real scientists determine which theories are valid, and which are not.



Thus it is most appropriate to discuss the failures along with the successes.The failures need to see the light of day rather than being treated as non-confirming evidence and being shoved into a dark corner.



Although I have heard of many people promoting creationism in the science classroom to teach the difference between real science and pseudo science. Even Behe said that ID is no more science than astrology in a court of law under oath. Please tell me you don't believe in astrology as well.



I fully agree. I don't think they necessarily have as their prime directive to convince other people though, I think they have a need to convince themselves via convincing other people, and this acts as positive feedback in their stand against the God that they deny exists.



I don't know if that is their prime objective, but whether they are aware of it or not, it is very positive feedback on their choice. Such experiences can and does influence people, and I would say that when Christians convert or teach/preach a similar affect is observed.





I'm really happy to hear that you feel that way –I'd rather believe what's true then what's convenient.



Indeed, and what part of my choice is convenient? I get attacked by atheists for believing in God, and attacked by creationists for accepting evolution. My choice has put me in the middle of a classic pincer attack.



A population of amphibians slowly evolved into reptiles over X amount of generations due to mutations natural selection.

Lack of a convincing demonstration that suggests that it did happen –in the fossils or in any other place.



My guess is that someone has already shown you fossils of the transitionals and you just denied the evidence, or refused to admit that they did show you and that they don't exist.



Yes C14 is radiometric dating but I say we can use it to determine a maximum age not an actual age, it hasn't proven to be very accurate for known dates.



C14 isn't going to decay away completely, and there is always contaminants, saying that if something has C14 in it isn't saying anything at all.



Radiometric dating is just too out to be believed and the only dates they accept from the rest of the radiometric dating line up are the ones that line up with the geological column, the bible of the evolutionist.



There were huge studies on radiometric dating, and they all showed that radiometric dating is reliable. How is it not reliable when real scientists use it?



My choice is philosophical and not scientific. It is a choice, as you have said.



Good to hear you say that. At least you understand that. Too many evolutionists do not even see that they have made a philosophical choice.



I don't want to soil a cheery moment but I think you misunderstood me. The choice to accept evolution is not philosophical. My philosophical choice comes by saying that it is a combination of the natural and supernatural that make up the universe.



Both theories involve once off historical events so neither can be proven to be true. What we need is to falsify subtheories within the main theories but evolution is so elastic it can explain anything - so it is not falsifiable thus it is not science.



Projection! You can easily falsify evolution, just find a bunny in the Cambrian, or find a case where a chimpanzee gave birth to a human ect and you will falsify evolution. But creationism starts off with pre-conceptions about the universe that they will never change, to a creationist creationism can't be falsifiable.



What is the difference between speciation and macro evolution?





Speciation is change within the kind



Um, despite the fact that no one knows what counts as a kind, that definition is completely wrong. Speciation is where one population becomes two or more distinct species. In all respects it is macro evolution. What you are proposing speciation to be is essentially micro evolution, but instead of species, you have kinds.



Technically kind may be genus or species



There is a big difference between species and genus when it comes to science. So really what you have said is that the definition of kind can change to fit whatever definition kind needs to be in order to fit the creationist model.



I'm sure other creationists would have a [better] thought out answer to that question.



Surprisingly I don't think anyone has a better answer to that question.



What I do know is that for all practical purposes fruit flies only ever produced more fruit flies deformed or otherwise through thousands of generations. Nothing new was ever produced, no new organs, nothing that you wouldn't recognize to be a fruit fly



All you said is that kind is subjective. There is no way to objectively tell one kind from another. You want to see big changes in your lifetime from parent to offspring, but evolution wouldn't allow it.



that is what I mean by 'kind.' No macro-evolution occurred despite plenty of time-consuming mutating effort.



Macro evolution is one species changing into another species, which we have observed in both the lab and natural settings. We have observed macro evolution, but you twist the real definition to mean changes in kinds, but no one knows what a kind is. So the hypothesis that things don't change kinds can't be falsifiable and therefore not science, but religious dogma that is incompatible with the evidence and can only be believed through blind faith and rejection of what we know.


-------
"So in everything, do to others what you would have them do to you, for this sums up the Law and the Prophets." - Jesus (Matthew 7:12)

---

Posts: 551 | Posted: 04:10 AM on July 22, 2009 | IP
wisp


| | Report Post

---



Fanatic
Post Score
Adjustment: n/a


Rate this post:

Lester
I'm really happy to hear that you feel that way –I'd rather believe what's true then what's convenient.


But it's you, religious people (the ones that tend to be creationists) who always use the slippery slope, and arguments from negative consequences.

That's the opposite of what you're now saying.


-------


Quote from Lester10 at 2:51 PM on September 21, 2010 in the thread
Scientists assert (by Lester):
Ha Ha. (...) I've told you people endlessly about my evidence but you don't want to show me yours - you just assert.

porkchop
Would we see a mammal by the water's edge "suddenly" start breathing underwater(w/camera effect of course)?

Contact me at youdebate.1wr@gishpuppy.com

---

Posts: 3037 | Posted: 12:12 PM on August 21, 2009 | IP
Lester10


| | Report Post

---


Fanatic
Post Score
Adjustment: n/a


Rate this post:

Fencer27
My apologies, I did not notice this reply before!Hope you're still around.



It is not an either or in science. There are other things to consider, like geographical location and time of existence. Like in whale evolution we see a clear pattern in the right time line showing hyena-like mammals slowly changing over time to whales.



No we don't actually. Those are only hopeful would be transitionals needed to keep evolution looking possible. They might very well be simply extinct animals, nothing to do with whales. There's a lot of wishful thinking that goes on in the evolution field. Evolutionists need whale intermediates –so they find them.



Archeopteryx is a prime example of a transitional fossil. There is also Tiktaalik and homo erectus, to name some of the more famous ones.



To name some of the very few questionable ones that are paraded before us regularly you mean.There should be tens of thousands of unquestionable intermediates lining the museum shelves but instead they are few, far between and always extremely questionable. Try visiting a museum and see what reality looks like. When they show you family trees on paper, ask to see the intermediates represented by the branching patterns. Generally they don't exist. But don't take my word for it, go and look. In particular ask to see the transitionals leading up to the Cambrian invertebrates and the invertebrate/fish intermediates. Remember there are billions of invertebrates and billions of fish so the intermediates shouldn't be anything less than well-represented and clearly intermediate.



Evolution must work with a genetic system already in place.



But if they don't know how the genetic system got there, how can they know that one kind of creature can turn into another? If the DNA is not part of the theory, that is convenient for them but ridiculous as well. We all know that they are sure the whole system evolved by natural means so why disclaim it as the essential beginning to their big plausible story?



Transitionals are clearly seen.


No they aren't, you've been brainwashed.


How does that go against what I said?


Most of the variation is built in to the original kind, not brought about by mutations.


Nonetheless, whether a mutation is beneficial or not is determined by the environment. In this case it is beneficial, the fact that it may be harmful in another environment is irrelevant as it is not the environment in which the population exists



The problem is that the mutation that was beneficial in one particular environment makes it generally less fit when it goes back to the original parent population and it is unable to compete as effectively as those without that mutation.



Well, the development of wings started out as feathers to keep warm. Eventually they would get enough feathers that it would help them not only to keep warm but to help glide as well, and from there flight.



That's a story Fencer, like Goldilocks. Actually two crow like birds were found in Post Texas (called Protoavis) dated at 225 million years, about 75 million years older than Archeopteryx. Were they more reptilian than archaeopteryx? No – that would have been nice, but they were fully bird-like (as is Archeopteryx actually) and were around as old as the 'first' dinosaurs making a dinosaur-bird transition even less likely than ever.(not that we ever doubted it).



But that's not what evolution says or even predicts. Every step must be either beneficial or neutral to the fitness of the organism/population.



So are you saying that a liver or a wing popped up in one step or are you saying that we just haven't found the transitional forms yet?



You're watching too much science fiction! We're actually all humans, created as humans and on a downhill slide. That is where mutations are taking us.



In science you need evidence, otherwise it will remain a hypothesis or model. You can hypothesize about anything really, and as long as you adjust your model to fit the evidence you've done nothing wrong in science.



Evolution doesn't work like that.The theory is superior to and precedes the evidence. No amount of evidence to the contrary makes evolution less plausible in the evolutionist's eyes. They have a faith that surpasses all understanding.



The simplest cell today is far more complex than the first cell.



No, that's the story. In practice, unicellular organisms have barely changed in more than 600 million years! It's because they're happy you see.



mutations and natural selection did happen in pre-cells



That's also a story, Fencer. You must really start noticing the difference between the fact and the fiction. Anyway, you said yourself that abiogenesis is not part of evolution so you can just ignore that problem.



Saying that the supernatural created life doesn't explain anything in regards to science. There is no reason to pursue that line of thinking unless it is theological or philosophical and not science.



Saying that purely natural law and chemical attractions caused life to 'emerge' is just as philosophical but that doesn't stop the evolutionist from forcing their opinion down everybody's throat at tax payer's expense. So why don't we dump the evolution and just stick with the observable science? There's so much to be learned. Why teach your religion and simply ignore everybody else's? Why don't we just get rid of all the philosophy and religion in science. That should suit all of us. Evolutionists just need to know when they have crossed from science into philosophy and religion. They are generally unaware of the transition. Reality and strange stories just blend into each other mercilessly.



There is information in life; like the codon AUG in RNA has information to start protein synthesis in translation, but it is all chemical. You don't need anything other than natural laws to explain how life works.



If it were all just chemistry then nucleotide bases and the acids of amino-acids would just stick together in all the wrong places. You know acids and bases tend to attract? When that does happen, death is busy occurring. Death is actually the triumph of chemistry over biology. Also when the L-amino acids in humans start converting to a 50:50 mix of left and right forms, then death is occurring. I wouldn't rely on chemistry to keep me alive!



But the only avenue of study is natural, not to say that it only has to be natural, but we can only study the natural and bringing in the supernatural to explain something isn't productive.



And forcing naturalism as the only allowed explanation isn't productive either so let's kick all that philosophy out and keep science scientific.



Genetic algorithms are computer programs that essentially use the properties of evolution to solve complex problems, and when tested against human designs for the same problem, they leave the human designs in the dust.



Well these genetic algorithms are devised by humans after all. Humans with bias. Evolutionists. Garbage in, garbage out as the saying goes.



Indeed it is very complex, but all of it can be explained by chemistry.



You're dreaming. No more than a computer's existence can be explained without a designer or a manufacturer. In short, an organizer of parts.



With genetic algorithms after a few thousand generations you get things that are better than those designed by humans.



I'm thinking you mean better than those designed by God or than those evolved by natural law?



But through science we can posit scenarios that are plausible and objectively completely natural.



And possibly totally fictional.



But science doesn't work that way, it follows the evidence, if only one explanation is needed, then why create an alternative?



But what if that explanation that you accept is plausible but false? Every possibility should be on the table along with the evidences supporting those possibilities. Saying that God might have created life does not turn science into theology. You don't have to discuss which God, just that there is evidence to suggest that something beyond natural law may have been responsible for the organized complexity of life. To leave out possible alternative explanations apart from natural law as a possibility is like organized philosophically inspired self-deception.



If information has no mass, no matter, than we should be able to fit an infinite amount on CD's, USB drives ect.



Does a book weigh more when it contains information? Maybe the ink weighs something but the information is not the ink. Do you get heavier the more you store information in your head? Have you weighed a CD before and after adding information? If you wipe your hard drive, does your computer weigh less?



Are you saying that polypeptides have intelligence?



No, but polypeptides line up due to information on the DNA –it's coded information. Where did it come from? Not from chemistry.



Remember, evolution doesn't support a perfect genome in the beginning, but a gradual increase in complexity.



While creation posits a perfect original genome deteriorating with time. The exact opposite.



Lets say that it did happen via supernatural means. What then, what does it explain, how does it better man-kind?



We have a purpose, we are created. We are not a random accident of nature. There is a reason we are here and we should try to find out why?



By suddenly you mean millions of years, and buy fully formed evolution would be in trouble if it weren't true as evolution requires all intermediate steps to be viable.



True but by fully formed I mean for example that when fish appear, no matter where, they are recognizably fish, all of a sudden in the fossil record –no signs of how they came to be fish. You still require the would-be fish to slowly step by step change into a fish. Why do we find billions of invertebrates, billions of fish and never the tens of thousands of inbetweens that there should be? Occasionally they find something that is most likely just an extinct creature and they rush to place it between this and that assuming evolution. Ever hopeful and sadly deluded. The numbers are all wrong.



While I am not versed in specific evolutionary pathways, but my guess is that we do have fossilized remains of their ancestors.



That guess would be based on a belief in evolution. My guess is that you won't find them. Bats are bats, dinosaurs are dinosaurs, very recognizable specific kinds and they come from nowhere according to the fossil record if you look at it completely objectively and drop your hopeful little evolutionary glasses. Like I say, go to a fossil museum and keep those glasses off. Be objective.



It should really be called the start of expansion, or something to that affect. No one knows where the energy came from, there are multiple hypotheses, but no one really knows.



Precisely. It is a creation story designed in fact to replace creation by God. It requires faith.



They don't want creationism in science classes being taught on par with evolution for many reasons. First it isn't science



It is every bit as scientific as evolution – more so in fact as the theory correlates better with the evidence.



there is no active research in this field done by real scientists



Actually there is, they just don't receive tax funded grants as they are not the favoured religion.



and the evidence just doesn't support it.



Oh yes it does!



Secondly it is illegal according to the first amendment in the U.S. constitution; freedom of religion, the U.S. government cannot legally support any religion over another.



But they do. They support evolution despite the unobservable, unrepeatable purely religious and philosophical nature of naturalism.They don't know that it's true but they fund all the research that attempts to prove that it's possible while neglecting completely the only possible alternative, that of creation.



And earlier in U.S. history creationism was banned because of it, and recently ID was banned for the same reason in Dover.



And once apon a time, evolution was banned in Dayton Tennessee and look how well that worked out for evolution. It's not always the apparent winner that wins you know. It's the Scopes trial turned on it's head' and creation is now the explanation for origins being suppressed.



Thirdly, a high school student doesn't have the knowledge or understanding to criticize any scientific theory.



You sound like the clergy of the Roman Catholic church talking about the congregation. The problem is that evolutionists don't think that the average educated layman has the knowledge or understanding to criticize either. Something's rotten in the state of Denmark!



Such things should be left to the peer review section in the scientific literature where real scientists determine which theories are valid, and which are not.



You mean the evolutionists don't you.



Even Behe said that ID is no more science than astrology in a court of law under oath.



I'd love to see that quote in context. Care to dig it up for me?



I get attacked by atheists for believing in God, and attacked by creationists for accepting evolution. My choice has put me in the middle of a classic pincer attack.



I wouldn't worry. I get attacked by both atheists and theistic evolutionists so we're in the same boat.



C14 isn't going to decay away completely, and there is always contaminants, saying that if something has C14 in it isn't saying anything at all.



Well that's a completely convenient way of saying that if the level of C14 isn't to my liking, it must be one of the available rationalizations to blame. Why is there still measurable C14 still in 'millions of years' old diamonds? I'm not talking about a trace, I'm talking about enough to make a case for a young earth?



There were huge studies on radiometric dating, and they all showed that radiometric dating is reliable. How is it not reliable when real scientists use it?



It doesn't give accurate dates over about 1500 years I hear. That's according to checking with known dates. It tends to give dates that are too old. That is, no doubt, because of all the same suppositions that are used generally in radiometric dating.



My choice is philosophical and not scientific. It is a choice, as you have said.

Good to hear you say that. At least you understand that. Too many evolutionists do not even see that they have made a philosophical choice.

I don't want to soil a cheery moment but I think you misunderstood me. The choice to accept evolution is not philosophical. My philosophical choice comes by saying that it is a combination of the natural and supernatural that make up the universe.



Well I don't want to soil/ spoil? a cheery moment either but maybe you just didn't realize that your choice to accept evolution is also philosophical.



Projection! You can easily falsify evolution, just find a bunny in the Cambrian, or find a case where a chimpanzee gave birth to a human ect and you will falsify evolution.



No, you don't understand. There will always be an elastic excuse on offer. There are so many things out of order and they get called overthrust, downwashed, uplifted, rearranged or even screwed over –it's all scientific.



Macro evolution is one species changing into another species, which we have observed in both the lab and natural settings.



No that isn't macroevolution –that is just a useless attempt to patch over a very big problem.




-------
Richard Lewontin: "We take the side of science in spite of the patent absurdity of some of its constructs in spite of the tolerance of the scientific community for unsubstantiated just-so stories, because we have a prior commitment, a commitment to materialism... no matter how counter-intuitive, no matter how mystifying to the uninitiated. Moreover, that materialism is an absolute, for we cannot allow a Divine Foot in the door"

---

Posts: 1554 | Posted: 12:52 PM on August 22, 2009 | IP
Mustrum


| | Report Post

---



Member
Post Score
Adjustment: n/a


Rate this post:

Quote from Lester10 at 11:52 AM on August 22, 2009 :


Macro evolution is one species changing into another species, which we have observed in both the lab and natural settings.



No that isn't macroevolution –that is just a useless attempt to patch over a very big problem.






The term macroevolution is, in general, used to refer to an any large morphological changes. Typically, this means changes at the species level, but sometimes my refer to the class or higher level.

When one looks at the work done within developmental biology, it becomes obvious that despite large changes in the morphology of different populations, there is an amazing similarity among the underlying genetic structures. For example, the the basic body plan of organism is highly dependent on how the hox genes are expressed during development. As you can imagine, these genes tend to be conserved over time since changes in them can lead to dynamic morphological changes.





-------
*Mustrum*

---

Posts: 143 | Posted: 2:50 PM on August 22, 2009 | IP
Fencer27


| | Report Post

---



Junkie
Post Score
Adjustment: n/a


Rate this post:

Quote from Lester10 at 12:52 PM on August 22, 2009 :
Fencer27
My apologies, I did not notice this reply before!Hope you're still around.



I'm still around, been busy lately so I haven't posted much recently. Don't really remember this conversation, LOL, I'll try to post something on this later tonight or tomorrow evening.


-------
"So in everything, do to others what you would have them do to you, for this sums up the Law and the Prophets." - Jesus (Matthew 7:12)

---

Posts: 551 | Posted: 10:39 PM on August 22, 2009 | IP
Fencer27


| | Report Post

---



Junkie
Post Score
Adjustment: n/a


Rate this post:

Quote from Lester10 at 12:52 PM on August 22, 2009 :



Thirdly, a high school student doesn't have the knowledge or understanding to criticize any scientific theory.



You sound like the clergy of the Roman Catholic church talking about the congregation. The problem is that evolutionists don't think that the average educated layman has the knowledge or understanding to criticize either. Something's rotten in the state of Denmark!




I was just reading over the post and thought I would give my two cents on this subject, and I'll try to write on the rest tomorrow.

How many high school students do you think are "educated laymen" in the field of biology, paleontology, astronomy, geology ect.? I can tell you now first hand the answer is none with very few exceptions. The vast majority of high school students don't know anything about science. They don't have the training, knowledge or competence to really support either one.

I was odd in that two friends and I talked about it amongst ourselves. Although none of us had any real good arguments for either side, and it must have been torture for the teachers who heard us drivel on like morons. But it was fun, and things got interesting starting half way through junior year; we were starting to have actual arguments instead of insane "bananas prove God" type arguments.  

I think creationism would be an effective tool to show how pseudo-science works, but I don't think that's what you mean by 'teach the controversy' somehow.

Post 123!

(Edited by Fencer27 8/22/2009 at 11:20 PM).


-------
"So in everything, do to others what you would have them do to you, for this sums up the Law and the Prophets." - Jesus (Matthew 7:12)

---

Posts: 551 | Posted: 11:19 PM on August 22, 2009 | IP
Apoapsis


| | Report Post

---


Fanatic
Post Score
Adjustment: n/a


Rate this post:

Quote from Lester10 at 12:52 PM on August 22, 2009 :




Even Behe said that ID is no more science than astrology in a court of law under oath.



I'd love to see that quote in context. Care to dig it up for me?





Q But you are clear, under your definition, the definition that sweeps in intelligent design, astrology is also a scientific theory, correct?

A Yes, that's correct. And let me explain under my definition of the word "theory," it is -- a sense of the word "theory" does not include the theory being true, it means a proposition based on physical evidence to explain some facts by logical inferences. There have been many theories throughout the history of science which looked good at the time which further progress has shown to be incorrect. Nonetheless, we can't go back and say that because they were incorrect they were not theories. So many many things that we now realized to be incorrect, incorrect theories, are nonetheless theories.

Kitzmiller vs Dover Trial Documents

Day 11 pm, Cross Examination


-------
Pogge:" This is the volume of a sphere with a 62 kilometer (about 39 miles) radius, which is considerably smaller than the 2,000 mile radius of the Earth."
Wikipedia:" For Earth, the mean radius is 6,371.009 km(≈3,958.761 mi; ≈3,440.069 nmi)."
Wisp to Lester (on Pogge): Do you admit he was wrong about the basics?
Lester: No


---

Posts: 1747 | Posted: 11:46 PM on August 22, 2009 | IP
Lester10


| | Report Post

---


Fanatic
Post Score
Adjustment: n/a


Rate this post:

Mustrum



despite large changes in the morphology of different populations, there is an amazing similarity among the underlying genetic structures. For example, the the basic body plan of organism is highly dependent on how the hox genes are expressed during development.



The problem here is that evolutionists assume that this implies a common ancestor. Creationists believe that this is proof of a common designer and greater similarities in genetics is akin to a similar recipe of proteins and necessary structures.
Where did the code come from? It is not just chemistry.


-------
Richard Lewontin: "We take the side of science in spite of the patent absurdity of some of its constructs in spite of the tolerance of the scientific community for unsubstantiated just-so stories, because we have a prior commitment, a commitment to materialism... no matter how counter-intuitive, no matter how mystifying to the uninitiated. Moreover, that materialism is an absolute, for we cannot allow a Divine Foot in the door"

---

Posts: 1554 | Posted: 03:18 AM on August 23, 2009 | IP
Lester10


| | Report Post

---


Fanatic
Post Score
Adjustment: n/a


Rate this post:

Hi Fencer,
Thanks for getting back to me -took me so long to notice this response of yours from July -apologies. How do you notice if you're not really posting much? Is there a way of having notice of any replies to a topic sent to you?



How many high school students do you think are "educated laymen" in the field of biology, paleontology, astronomy, geology ect.? I can tell you now first hand the answer is none with very few exceptions.



I think you didn't quite get my point here. What I was saying was in response to your contention that high school students were not in a position to make any educated decisions about anything. I then went on to say that not even educated lay people (beyond the high school level) were considered by 'scientists' to be in a position to evaluate the evidence; which made them effectively like the upper echelons of the church deciding what people have to think and putting them beyond the common man in an unhealthy sort of a way.



The vast majority of high school students don't know anything about science. They don't have the training, knowledge or competence to really support either one.



Often the teachers don't either. It can make for very interesting conversations though and gets kids to think rather than rattle off the so-called 'facts'. Opposition to a majority point of view is not a bad thing -it is a healthy questioning of what can become dogma if untested. If that questioning has no merit, it will fall away on its own as it will be too weak to be maintained as an argument.It's always good to wake people up and make them think!



But it was fun, and things got interesting starting half way through junior year; we were starting to have actual arguments instead of insane "bananas prove God" type arguments.



I know a kid in final year of high school this year that has been battling the odds in a Christian school trying to support creation against the teacher's evolutionary bias. This teacher made comments on his report card to the extent that he was 'disruptive'. It was in complete contrast to all his other subjects where the teachers consistently noted that he was a pleasure to teach and participated enthusiastically. He said that in the beginning of the section on evolution, he was the only one speaking up. Out of class, some of the kids expressed reservations about evolution but never in the class. Now the year is dragging on (our year runs Jan-Dec) and suddenly other kids are starting to participate positively in the debate to the point that the teacher is becoming lost and does not know how to defend herself and evolution against opposition. Hopefully she will wake up not only to the opposition but also to her own preconceptions. Anyway the subject has become interesting for the kids generally.



I think creationism would be an effective tool to show how pseudo-science works



I think evolutionism would be an effective tool to show how pseudo-science works.

I also think we could all benefit from examining our preconceptions and seeing how they help us to interpet the evidence differently.


-------
Richard Lewontin: "We take the side of science in spite of the patent absurdity of some of its constructs in spite of the tolerance of the scientific community for unsubstantiated just-so stories, because we have a prior commitment, a commitment to materialism... no matter how counter-intuitive, no matter how mystifying to the uninitiated. Moreover, that materialism is an absolute, for we cannot allow a Divine Foot in the door"

---

Posts: 1554 | Posted: 04:05 AM on August 23, 2009 | IP
Yehren


| | Report Post

---



Member
Post Score
Adjustment: n/a


Rate this post:

That's a story Fencer, like Goldilocks. Actually two crow like birds were found in Post Texas (called Protoavis) dated at 225 million years, about 75 million years older than Archeopteryx. Were they more reptilian than archaeopteryx? No – that would have been nice, but they were fully bird-like (as is Archeopteryx actually) and were around as old as the 'first' dinosaurs making a dinosaur-bird transition even less likely than ever.(not that we ever doubted it).



The problem is that the fossil didn't have feathers, and now is apparently bones from several different sorts of organisms.

"[Protoavis] has neither been widely accepted nor seriously considered as a Triassic bird ... [Witmer], who has examined the material and is one of the few workers to have seriously considered Chatterjee's proposal, argued that the avian status of P. texensis is probably not as clear as generally portrayed by Chatterjee, and further recommended minimization of the role that Protoavis plays in the discussion of avian ancestry."[7]

Chatterjee is one of several ornithologists who claim that birds evolved from thecodonts, which also gave rise to dinosaurs.   It would make them sister taxa, having split off from the same population.  

You're quite wrong about Archaeopteryx being fully birdlike.   The hands, spine, ribs, tail, pelvis, teeth, and skull, for example are more dinosaur-like than birdlike.   It's why some creationists for a while argued that it was a dinosaur with feathers somehow forged.   It is so dinosaur-like, that a specimen without preserved feather prints was so classified for a time.



But that's not what evolution says or even predicts. Every step must be either beneficial or neutral to the fitness of the organism/population.



So far that's the case, in bird evolution.   Each step shows a viable animal.



So are you saying that a liver or a wing popped up in one step or are you saying that we just haven't found the transitional forms yet?



Since we have evidence for the gradual evolution of both, the "popping up" theory is dead.  Would you like to learn about one or both of them?



You're watching too much science fiction! We're actually all humans, created as humans and on a downhill slide. That is where mutations are taking us.



Would you like to learn about some useful new mutations in humans?



Evolution doesn't work like that.The theory is superior to and precedes the evidence.



That's not quite right.   A viable theory must make predictions that are later confirmed by evidence.   For example, evolutionary theory predicted transitionals between whales and ungulates, lizards and snakes, and frogs and salamanders.

And later, each of those predictions was validated.  Want to learn about those?   Such validations are necessary to confirm the theory as true.



No amount of evidence to the contrary makes evolution less plausible in the evolutionist's eyes.



What do you think the best evidence against evolution might be?   The lack of such evidence is what turned most scientists to evolution.



They have a faith that surpasses all understanding.



Test that belief by asking a scientist why he accepts evoluton.   If he cites evidence, you're wrong.



The simplest cell today is far more complex than the first cell.



That would seem to be another confirmation of evolution, but the first cells we can find seem to be cyanobacteria.  




(Edited by Yehren 8/23/2009 at 06:01 AM).


---

Posts: 84 | Posted: 06:00 AM on August 23, 2009 | IP
Yehren


| | Report Post

---



Member
Post Score
Adjustment: n/a


Rate this post:

No, that's the story. In practice, unicellular organisms have barely changed in more than 600 million years! It's because they're happy you see.



Fit. When an organism is well-fitted to its envirionment, it doesn't change much.



True but by fully formed I mean for example that when fish appear, no matter where, they are recognizably fish, all of a sudden in the fossil record –no signs of how they came to be fish.



Let's test your belief. What are the absolute minimum requirements for a living thing to be a fish?



That guess would be based on a belief in evolution. My guess is that you won't find them. Bats are bats, dinosaurs are dinosaurs, very recognizable specific kinds and they come from nowhere according to the fossil record if you look at it completely objectively and drop your hopeful little evolutionary glasses.



Let's test that belief. By what characters do you distinguish dinosaurs from thecodonts?

Well that's a completely convenient way of saying that if the level of C14 isn't to my liking, it must be one of the available rationalizations to blame. Why is there still measurable C14 still in 'millions of years' old diamonds?

C14 is produced when ionizing radiation strikes nitrogen atoms. Diamonds are found in a matrix that includes radioactive sources, and so far, no diamond without nitrogen atoms in the carbon lattice has been found to have C14. So that's pretty obvious.



---

Posts: 84 | Posted: 06:12 AM on August 23, 2009 | IP
Mustrum


| | Report Post

---



Member
Post Score
Adjustment: n/a


Rate this post:

Quote from Lester10 at 02:18 AM on August 23, 2009 :
Mustrum



despite large changes in the morphology of different populations, there is an amazing similarity among the underlying genetic structures. For example, the the basic body plan of organism is highly dependent on how the hox genes are expressed during development.



The problem here is that evolutionists assume that this implies a common ancestor. Creationists believe that this is proof of a common designer and greater similarities in genetics is akin to a similar recipe of proteins and necessary structures.
Where did the code come from? It is not just chemistry.




Of course, you are ignoring the rest of the story to pretend hox genes demonstrate a common, supernatural creator. We know, that is it is a fact, that the Earth is 4 and some billion years old, that life began on the Earth some 3 billion or so years ago, and that organisms have changed over that time period. It is also a fact that genetics works in such a way so that variations in the genetic structure occur and are passed down from one generation to the next. The modern synthesis (evolution) is the best theory we have to explain all of this.

Creationism denies even the most basic facts. The only way its proponents can sell it to the rubes is through lies and distortions.

Also, DNA is "just chemistry." If you can demonstrate that something else, some supernatural woo-woo or whatever, is involved, then please do.





-------
*Mustrum*

---

Posts: 143 | Posted: 07:29 AM on August 23, 2009 | IP
Lester10


| | Report Post

---


Fanatic
Post Score
Adjustment: n/a


Rate this post:

Of course, you are ignoring the rest of the story to pretend hox genes demonstrate a common, supernatural creator. We know, that is it is a fact, that the Earth is 4 and some billion years old



No, we don't. The dates were given to the geological column long before radiometric dating. Only the odd radiometric date that happens to correlate is used. The majority of dating is done via index fossils. Index fossils are dated according to the hypothetical geological column. It's a circle of baloney. Radiometric dating is based on a whole list of assumptions. It does not work when tested against known dates. It is NOT a fact, or anything near it for that matter. It is in effect a fantabulous fairy tale.



that life began on the Earth some 3 billion or so years ago



If the radiometric dating is right which it appears not to be.



and that organisms have changed over that time period.





The only thing that fossils can really tell us is that things died. Try looking at fossil clams and fossil jellyfish and see how much change there has been over this hypothetical hundreds of millions of years. It's an excuse to say that they were well adapted to their environment while others were clearly so badly adapted that they evolved all the way to man. It really is a ridiculous fairy tale trying to pass for science.



It is also a fact that genetics works in such a way so that variations in the genetic structure occur and are passed down from one generation to the next.



Within limits yes.



Creationism denies even the most basic facts.



No, actually it allows for the most basic facts. There is no gradualism in the fossil record. There are large systematic gaps that can be explained by creation but which defy evolution.Go to a natural history museum, Mustrum. Ask to see all the transitionals. See if they look transitional. Keep your eye on the big picture. Take off the evo glasses.Remain objective. It'll be an interesting experiment.



Also, DNA is "just chemistry."



No DNA is coded information. It tells the cell what proteins to make and in what quantities they are needed and where they are needed. It is not chemistry. If you weren't so evolutionized, it would be as plain as the nose on your face.



-------
Richard Lewontin: "We take the side of science in spite of the patent absurdity of some of its constructs in spite of the tolerance of the scientific community for unsubstantiated just-so stories, because we have a prior commitment, a commitment to materialism... no matter how counter-intuitive, no matter how mystifying to the uninitiated. Moreover, that materialism is an absolute, for we cannot allow a Divine Foot in the door"

---

Posts: 1554 | Posted: 10:56 AM on August 26, 2009 | IP
Lester10


| | Report Post

---


Fanatic
Post Score
Adjustment: n/a


Rate this post:

You're quite wrong about Archaeopteryx being fully birdlike. The hands, spine, ribs, tail, pelvis, teeth, and skull, for example are more dinosaur-like than birdlike.



If you put a whole bunch of fossilized bird skeletons together and line them up with archaeopteryx mixed in you would never guess which one is supposedly reptilian as they are very similar indeed.

As for the teeth, meat eating dinosaurs have serrated teeth, archaeopteryx teeth are smooth indicating that it is simply a unique characteristic of that bird. Each kind of modern bird is unique as well. There are other birds that have teeth, by the way.

The skull is birdlike.

The tail is just long in comparison to the rest of its body. Their tails have been compared to the tails of meat eating dinosaurs. The only difference is that the tails of meat eating dinosaurs are 4-5 feet long and covered with scales while archaeopteyx' tail is 4-5 inches long and covered with feathers.



Since we have evidence for the gradual evolution of both, the "popping up" theory is dead. Would you like to learn about one or both of them?



That's not what I've heard so please enlighten me. (The evolution of a liver and a wing)



Would you like to learn about some useful new mutations in humans?



Mutations cause loss of information but can be useful in certain circumstances (usually limited) –I'd love to see the mutations that add new information. But I'll be happy to see your examples of loss of information as well. Thanks.



For example, evolutionary theory predicted transitionals between whales and ungulates, lizards and snakes, and frogs and salamanders.

And later, each of those predictions was validated. Want to learn about those?



Wow you seem to know about more transitionals than the curators of the major natural history museums in America –I'd love to learn about them.



Such validations are necessary to confirm the theory as true.



Inventive validations are also necessary if you want to keep the theory of evolution alive despite the general state of the fossil evidence. But I'm always interested to see what you can come up with.



What do you think the best evidence against evolution might be?



The state of the fossil evidence?


The lack of such evidence is what turned most scientists to evolution.


Evo scientists are a very optimistic lot. Either they haven't seen the general state of the fossil evidence for themselves OR they are deceiving themselves into thinking that the evidence will be forthcoming and will carry on that way until cows can fly. The evidence is not as important to evolutionists as they would have us believe.



Test that belief by asking a scientist why he accepts evoluton.



I know that most of them accept it because that is what they were taught and it doesn't occur to them that learned people before them could have been deceived by philosophy. Every scientist has their little niche where they are the expert. The general picture, they assume, supports evolution. A lot is hidden from the fledgling biologist. Certainly a lot was hidden from me - and according to Behe, he was 'angry' when he was first exposed to a mass of evidence against the theory of evolution that never came up (but should have) when he was studying for his degree. If you are exposed to that evidence and still believe in evolution, it can only be because you prefer to believe it not because the evidence for evolution compelled you to accept it.



Test that belief by asking a scientist why he accepts evoluton. If he cites evidence, you're wrong.



If he cites selective evidence while ignoring the big picture even after it is presented to him, chances are his choice is philosophical and he just hasn't realized it yet.



The simplest cell today is far more complex than the first cell.

That would seem to be another confirmation of evolution



Unfortunately you inadvertently lifted that quote from somebody else. The simplest cell today is probably as complex as it ever was in the past. It is only the theory of evolution that assumes increasing complexity.


Fit. When an organism is well-fitted to its envirionment, it doesn't change much.



Well that's where we differ you see. We say they are basically unchanged because they can only change within limits of 'kind' and the other organisms that don't exist today, went extinct. The reason they are unchanged is not just because only a few thousands years have passed, but also because they haven't the capability to change in the way that evolutionists imagine they can. For us, natural selection is a conservative force. For evolutionists, it is a creative type of a force that causes greater and greater complexity to 'emerge.'



Let's test your belief. What are the absolute minimum requirements for a living thing to be a fish?



I don't know what the minimum requirements would be for an evolutionist because remember we don't believe that invertebrates changed into fish. A fish is a vertebrate –it has hard parts/bones inside and flesh outside as opposed to the invertebrates' characteristics.


Let's test that belief. By what characters do you distinguish dinosaurs from thecodonts?



Tell me please.



(Diamonds are found in a matrix that includes radioactive sources) and so far, no diamond without nitrogen atoms in the carbon lattice has been found to have C14.



What exactly are you trying to say here?




-------
Richard Lewontin: "We take the side of science in spite of the patent absurdity of some of its constructs in spite of the tolerance of the scientific community for unsubstantiated just-so stories, because we have a prior commitment, a commitment to materialism... no matter how counter-intuitive, no matter how mystifying to the uninitiated. Moreover, that materialism is an absolute, for we cannot allow a Divine Foot in the door"

---

Posts: 1554 | Posted: 07:32 AM on August 27, 2009 | IP
Mustrum


| | Report Post

---



Member
Post Score
Adjustment: n/a


Rate this post:

Quote from Lester10 at 06:32 AM on August 27, 2009 :


You're quite wrong about Archaeopteryx being fully birdlike.   The hands, spine, ribs, tail, pelvis, teeth, and skull, for example are more dinosaur-like than birdlike.



If you put a whole bunch of fossilized bird skeletons together and line them up with archaeopteryx mixed in you would never guess which one is supposedly reptilian as they are very similar indeed.

As for the teeth, meat eating dinosaurs have serrated teeth, archaeopteryx teeth are smooth indicating that it is simply a unique characteristic of that bird. Each kind of modern bird is unique as well. There are other birds that have teeth, by the way.

The skull is birdlike.

The tail is just long in comparison to the rest of its body. Their tails have been compared to the tails of meat eating dinosaurs. The only difference is that the tails of meat eating dinosaurs  are 4-5 feet long and covered with scales while archaeopteyx' tail is 4-5 inches long and covered with feathers.





Hey Lester, what modern birds have teeth and long tails? Hum...

By the way, the teeth of Archie are not that dissimilar to those of non-avian theropods like microraptor, see
here.


-------
*Mustrum*

---

Posts: 143 | Posted: 11:11 AM on August 27, 2009 | IP
Lester10


| | Report Post

---


Fanatic
Post Score
Adjustment: n/a


Rate this post:

Hey Lester, what modern birds have teeth and long tails? Hum...



Well Mustrum, actually no living birds have socketed teeth but some fossil birds do but they, like archaeopteryx, are extinct. Did you know that some reptiles have teeth and some don't? So the presence or absence of teeth is not particularly important in distinguishing the two groups.

As for long tails, archaeopteryx does have a long tail compared to modern birds but their tails are far more closely related to other birds than they are to the very long scaly tails of the meat eating dinosaurs that evolutionists would like to link them to. Different birds have different distinguishing features, the long tail is one of archaeopteryx' distinguishing features but it still has feathers, wings and a beak -so it's a bird!



By the way, the teeth of Archie are not that dissimilar to those of non-avian theropods like microraptor



And in light of what I've noted above, your point is...



-------
Richard Lewontin: "We take the side of science in spite of the patent absurdity of some of its constructs in spite of the tolerance of the scientific community for unsubstantiated just-so stories, because we have a prior commitment, a commitment to materialism... no matter how counter-intuitive, no matter how mystifying to the uninitiated. Moreover, that materialism is an absolute, for we cannot allow a Divine Foot in the door"

---

Posts: 1554 | Posted: 03:35 AM on August 29, 2009 | IP
Yehren


| | Report Post

---



Member
Post Score
Adjustment: n/a


Rate this post:

If you put a whole bunch of fossilized bird skeletons together and line them up with archaeopteryx mixed in you would never guess which one is supposedly reptilian as they are very similar indeed.



What fossil bird has no beak, a reptilian tail, reptilian ribs, spine, hips, and legs?

If Archie was any more like a dinosaur, he'd be classified as a dinosaur. In fact, one specimen (without feather impressions) was actually classified that way until one with feathers was found.



As for the teeth, meat eating dinosaurs have serrated teeth,



Some did. Compsognathus (the dinosaur most like Archie) had teeth almost exactly like those of an Archaeopteryx.



Top is Compsognathis, next Archie, then a modern bird.



See above. Which two look most alike to you?

[quoteThe tail is just long in comparison to the rest of its body.


No kidding. It's tail is like that of a dinosaur. Birds have a tiny pygostyle, a mere button of a tail.



Their tails have been compared to the tails of meat eating dinosaurs.



Let's take a look. Skeletons of Archie, Compsognathus, and a bird:



Surprise.



So are you saying that a liver or a wing popped up in one step or are you saying that we just haven't found the transitional forms yet?



Barbarian observes:
Since we have evidence for the gradual evolution of both, the "popping up" theory is dead. Would you like to learn about one or both of them?



That's not what I've heard



You hadn't heard it was wrong for Christians to steal the writing of other people, either.



so please enlighten me. (The evolution of a liver and a wing)



Let's take a look: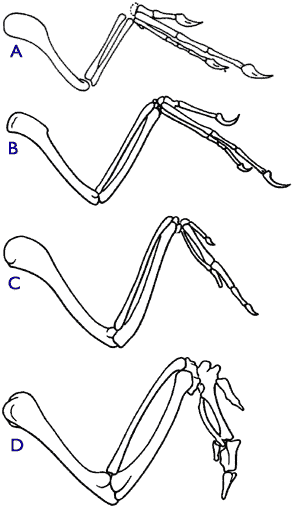 Surprise. Livers later. Got to look up the terminology in the early chordates.

Barbarian asks:
Would you like to learn about some useful new mutations in humans?



Mutations cause loss of information



No, that's wrong. In fact, one can show mathematically that any new mutation will increase the information in a population. Would you like to see that?



I'd love to see the mutations that add new information.



They all do. The information level of any gene locus is the sum of the frequencies of all the different alleles times the log of the frequency of each, times minus one.



But I'll be happy to see your examples of loss of information as well.



That would happen whenever an allele disappeared from a population. In extreme cases, when only one is left, it's called "fixation."

Barbarian observes:
For example, evolutionary theory predicted transitionals between whales and ungulates, lizards and snakes, and frogs and salamanders.

And later, each of those predictions was validated. Want to learn about those?



Wow you seem to know about more transitionals than the curators of the major natural history museums in America



I don't think so. Most of them have such exhibits in the museums. The Florida Museum of Natural History, for example, has a very nice set of horse skeletons showing the gradual changes from Hyracotherium to Equus.
http://www.flmnh.ufl.edu/natsci/vertpaleo/fhc/firstCM.htm



I'd love to learn about them.



Try the link. I'll take you through the gradual changes step by step, if you like.

Barbarian observes:
What do you think the best evidence against evolution might be?



The state of the fossil evidence?



Then you're out of luck. As the link shows, gradual evolution of horses is abundantly demonstrated.



I know that most of them accept it because that is what they were taught and it doesn't occur to them that learned people before them could have been deceived by philosophy.



Science works only on evidence. Philosophy won't help you. To impress a scientist, you need some evidence.



Every scientist has their little niche where they are the expert. The general picture, they assume, supports evolution.



There's a way to test that, too. Go to one of the cult sites that features a list of "Scientists who doubt Darwin." You'll quickly see that the list is filled with people who don't have any expertise in biology.



A lot is hidden from the fledgling biologist.



Since you've shown us time after time, you have no understanding of biology, you'd have no way of knowing.



Certainly a lot was hidden from me - and according to Behe, he was 'angry' when he was first exposed to a mass of evidence against the theory of evolution that never came up (but should have) when he was studying for his degree.



Odd then, that Behe thinks that evolution is a fact. And he testified in the Dover trial that "intelligent design" was a science in the same sense that astrology is science.



The simplest cell today is far more complex than the first cell.



Barbarian observes:
That would seem to be another confirmation of evolution



The simplest cell today is probably as complex as it ever was in the past.



No. The oldest cells are all prokaryotes, which are much, much less complex than eukaryotes.



It is only the theory of evolution that assumes increasing complexity.



Barbarian observes:
Fitness. When an organism is well-fitted to its envirionment, it doesn't change much.



Well that's where we differ you see.



That's because you don't know what you're talking about. We can show organisms well-fitted to their environment, and we see stabilizing selection, and they don't change much. Then, if we change the environment, we see rapid change.

Barbarian suggests:
Let's test your belief. What are the absolute minimum requirements for a living thing to be a fish?



I don't know what the minimum requirements would be for an evolutionist



Then man up and tell us what your absolute minimum requirements are.



A fish is a vertebrate –it has hard parts/bones inside and flesh outside as opposed to the invertebrates' characteristics.



So a shark isn't a vertebrate? And cuttlefish are? Try again.

(Claim that dinosaurs did not evolve from other things)

Barbarian suggests:
Let's test that belief. By what characters do you distinguish dinosaurs from thecodonts?



If you don't know anything about it, how do you know you're right?

(Diamonds are found in a matrix that includes radioactive sources) and so far, no diamond without nitrogen atoms in the carbon lattice has been found to have C14.



What exactly are you trying to say here?



The evidence shows C-14 in diamonds is being slowly produced by radiation acting on nitrogen atoms in the crystal. That's how we get C-14.